One small Revolution Plus dose from the handy pipette and you can say goodbye to fleas, flea eggs, flea larvae, ticks, mites, lice, hookworms and roundworms! For an entire month! It's the dual action technology in Revolution Plus that's strong enough to work fast, yet soft on your fur baby.
Revolution Plus products
Whether you've got a youngster or a big handful of fur, there's a Revolution Plus monthly flea treatment purrrfect for your cat. Just choose the pack for your cat's weight.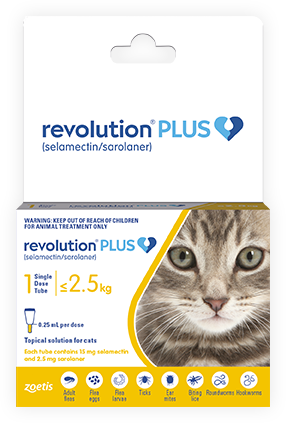 2.5mg Sarolaner
For cats: 1-2.5kg
5mg Sarolaner
For cats: 2.5-5kg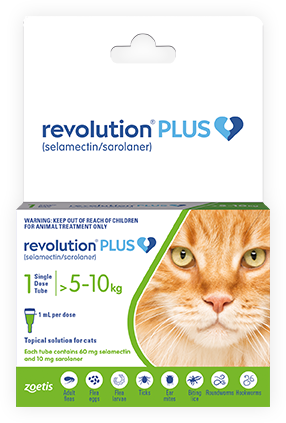 10mg Sarolaner
For cats: 5-10kg
Where to buy?
You can find Revolution Plus at all good vets and from your local pet store. Just ask.
How to apply
It's so easy! Just squeeze the measured dose on your cat's neck. No need to rub in.
It's fast drying and the fleas won't know what's hit them.

STEP 01
Press cap until you hear a "CLICK"
Hold tube upright and press the cap to puncture the seal. Remove cap and make sure tip is open.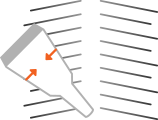 STEP 02
Part neck hair and squeeze tube
Part the fur at the base of your cat's neck and touch tube tip to visible skin. Squeeze tube 3 or 4 times in one spot.

STEP 03
Glide tube, lift and discard
Keeping the tube squeezed, glide it along the skin and away from the liquid, then lift off. Ensure the tube is empty before throwing it out.
Treatment & Prevention Plan
Only 1 out of every 20 fleas affecting cats are found on their body. Where are all the others?
They're in and around your cat's living environments.
TREATMENT PLAN
There will already be fleas in your cat's living spaces, so this Flea Treatment Plan will help you get your house parasite-free as quickly as possible.
DOWNLOAD TREATMENT PLAN
PREVENTION PLAN
Now you've created a flea-free environment, use this flea prevention plan to ensure they don't come back.
DOWNLOAD PREVENTION PLAN
FAQ
To keep your cat and home environments healthy, learn how to recognise the symptoms of parasites, as well as how to prevent and treat parasite infestations.